Services That Help Organizations Succeed
C2 understands that every organization desires to maximize the effectiveness of its greatest asset – its people. However, human capital management is perhaps the most complex area that an organization handles daily. Our team of experts offers a comprehensive range of human resources solutions to balance your organization's strategic goals while maintaining compliance with a myriad of dynamic and ever-changing legal requirements and related administrative challenges.
C2 Technologies, Inc. is a leader in strategic human capital management, and we provide a broad range of Management and Performance Improvement Services that include the following:
Strategic Workforce Planning
HR Policy Research and Development
Job Analysis
Succession Planning
Recruitment and Selection
Compensation and Classification
Organizational Development and Transformation
Performance Management
Change Management
Employee Relations
Diversity Management
Leadership and Management Development
Outplacement and Career Development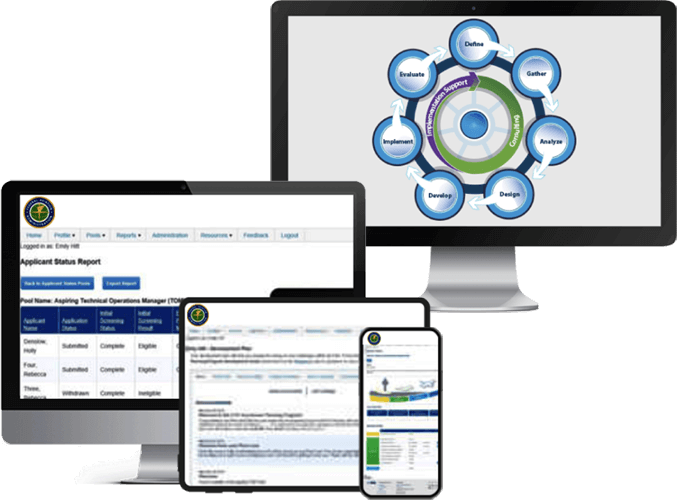 Portfolio
The C2 Human Capital Management practice specializes in the design, development, and implementation of products and solutions that are tailored to our client's unique organizational needs and challenges. Following a data-driven approach, our practitioners strive to help our clients become more responsive, efficient, and effective; and align their human capital resources to meet organizational objectives.
National Geospatial- Intelligence Agency
National Oceanic and Atmospheric Administration
Defense Security Service Academy
National Credit Union Administration
U.S. Securities and Exchange Commission
Department of Housing and Urban Development
National Institute of Standards and Technology
Centers for Disease Control and Prevention
Office of the Director of National Intelligence
National Archives and Records Administration
Federal Aviation Administration
Department of Homeland Security