As virtual reality garners attention for its value in sports, events and entertainment, C2 Technologies Inc. (pronounced C-squared) is leveraging it as a teaching tool.
The Vienna company, founded in 1989, uses virtual and augmented reality programs to improve human performance in both the classroom and the workforce. Its clients span industries from defense to banking to education to government to health care — and its products run the gamut, too.
---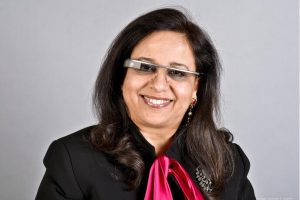 Joanne S. Lawton
LOAC Interactive Trainer is available on all wearable devices. C2 CEO Dolly Oberoi was a 2014 Minority Business Leader Awards honoree.
---
Among them is the LOAC Interactive Trainer, which prepares students studying to become Judge Advocate Generals in the U.S. Army.
"This is a totally immersive environment, using multiple layers of technologies, but also a lot of research in how the human mind thinks, reacts and so forth," says C2 Technologies CEO Dolly Oberoi. "It's combining the soft skills and the technology and tools to create that immersive environment."
The program offers a simulated experience in a safe setting, so that its users are well-prepared — in this case, for the courtroom. The goal of this serious game is to simulate a real-life patrol in a realistic urban environment. The LOAC Interactive Trainer is meant to be a teaching tool, allowing students to make incorrect decisions, see consequences for their actions and later receive guidance. It is available on all devices, including wearable devices.
C2 competes with big companies such as Booz Allen Hamilton Inc. and Lockheed Martin Corp., Oberoi says, as well as small shops and startups. Her 400-person company includes researchers and psychologists to support the psychology that goes into creating this type of experience.
She and her team were tasked with keeping the LOAC Interactive Trainer enveloping, exciting and challenging — and had to ensure it would produce the intended results.
It's important in this type of work, she says, that she and her colleagues understand the landscapes in which their clients operate, so they may navigate security issues and any other factors that could affect their work.
Originally from New Delhi, India, Oberoi is a 2014 Washington Business Journal Minority Business Leader Awards honoree.
The first phase of the LOAC Interactive Trainer is finished, and the company is working on several other projects in the virtual reality space. Oberoi's team is helping clients confront the difficulties that come with both training and managing in a multigenerational workforce.
"We are catering to the next generation while we are keeping an eye to make sure that the current workforce gets what they need, but are also mindful of the fact that the next generation is right there," Oberoi says. "We're using all of the new tools and technologies and methodologies to develop new learning solutions for them."
---
Closer look
Established: 1989
Employees: 400
Headquarters: Vienna
2015 revenue: $32.9 million
Leadership: Dolly Oberoi, CEO
Honored for: Creating the LOAC Interactive Trainer, a series of virtual reality games used as a teaching tool for students working toward becoming a Judge Advocate General in the Army.
---
Sara Gilgore produces content for our digital operation.

Innovation Awards 2016: C2 Technologies Inc.