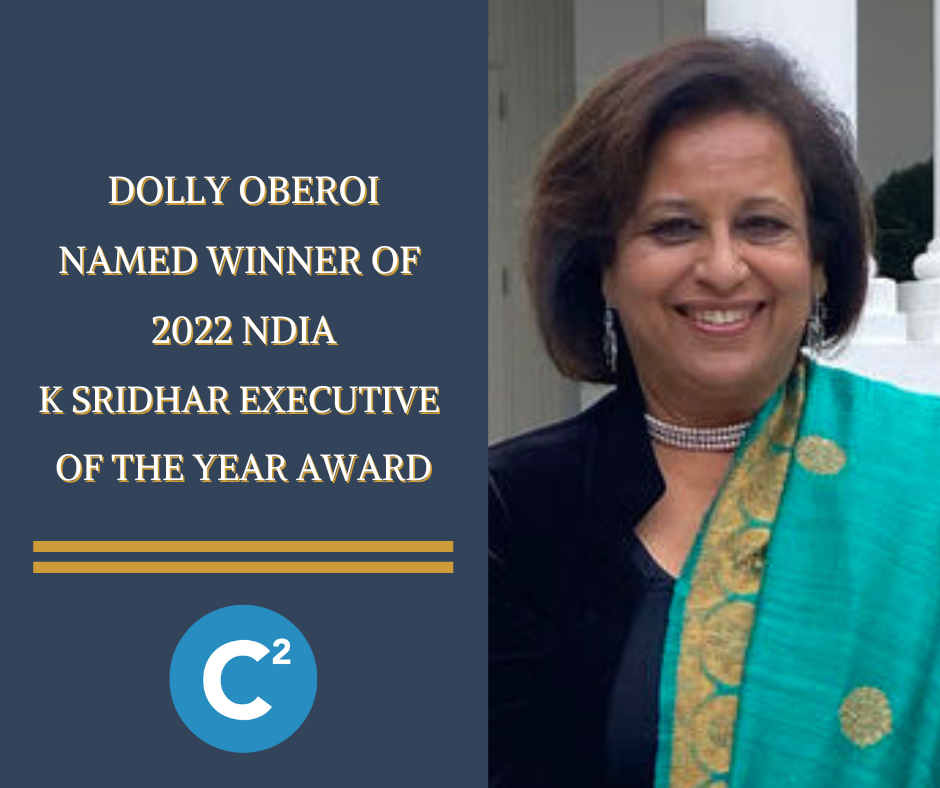 November 21, 2022 – Orlando, Florida. Founder and Chief Executive officer of C2Technologies Inc (C2TI), Dolly Oberoi has been named the inaugural recipient of the Outstanding Woman in Defense Training Award for the 2022 Military Simulation & Training Awards presented by The Halldale Group.
"It is truly an honor to be recognized as the inaugural winner of this category," Oberoi said. "It is especially meaningful to receive this award just prior to I/ITSEC, the world's largest modeling, simulation, and training conference, we I will be surrounded by so many talented women who have also dedicated their careers to doing what they love every day – supporting our warfighters."
The Outstanding Woman in Defense Training award recognizes Oberoi for demonstrating, and continuing to demonstrate, outstanding and significant technical, professional, and social leadership. According to The Halldale Group, it recognizes a woman who has emerged from a competitive group of female professionals from around the globe, one who continues to make her mark on advancing the defense simulation and training (S&T) community – in war and peace.The MS&T Simulation & Training Awards received a record 64 nominations from organizations around the globe competing for top honors in eight categories. A very strong competitive field generated more than 8,000 online votes to help determine the winners.
Oberoi's knowledge of and experience within the S&T industry spans more than 32 years. A respected pioneer and entrepreneur in the education and training, aviation, defense, and civilian sectors, she is dedicated to her company's mission to improve human performance. In 1989, Oberoi, with partner Curtis Cox, founded C2 Technologies, an aerospace and defense company specializing in immersive technologies, training, (AR/VR/metaverse/digital twins), modeling and simulation, artificial intelligence, analytics, and digital transformation.
Oberoi was endorsed for the award by Raymond Duquette, Retired President, CAE, USA,  J. William "Bill" DeMarco, USAF Chief Innovation Development (AUiX)/Assistant Professor at Air University (AU), and Dr. Andrew Clayton, USAF Assistant Professor of Leadership at the Air War College – "Dolly is an amazing professional," states DeMarco. "She's always available and reachable and easily tackles the biggest issues and/or the smallest details. She is brilliant and has incredibly deep domain knowledge and connections across a vast network and always willing to connect customers." "Congratulations to Dolly; she is quite deserving of the award," adds Clayton. "Dolly has a keen ability to see into the future and communicate direction for her employees, as well to industry, about what the future will look like and how to get there."