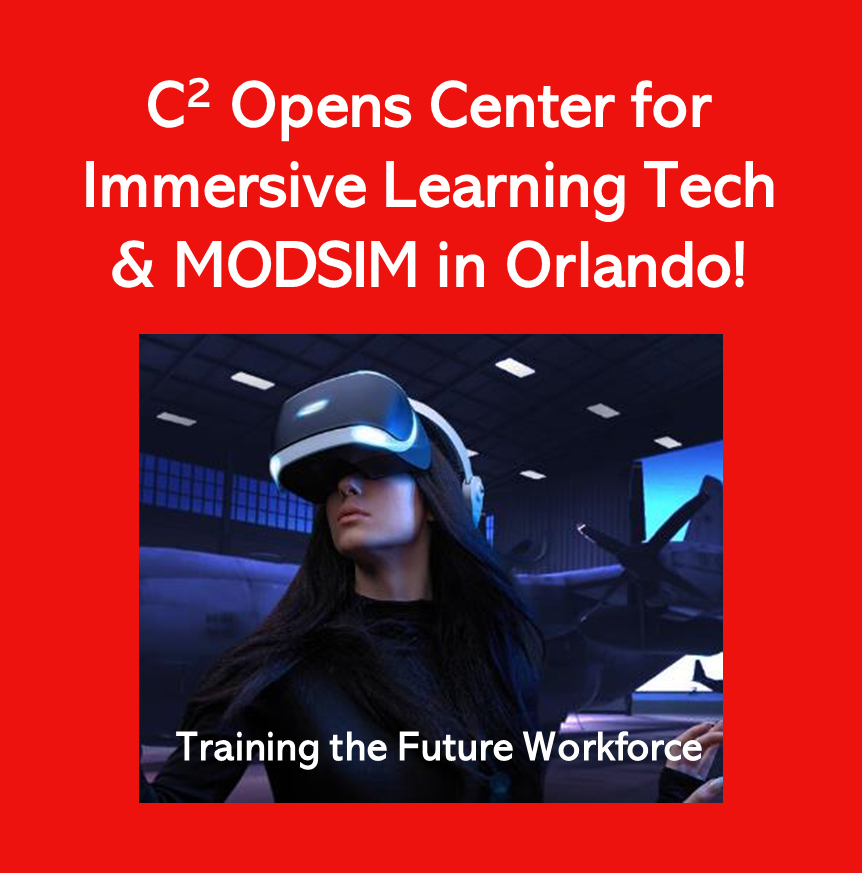 C2 Technologies, a global aerospace and defense company specializing in immersive training through technology, has opened its Center for Immersive Learning Tech and MODSIM in Orlando.
C2 Technologies employs more than 500 people in 44 locations in the United States and believes this move will give us access to more potential customers and high technology talent.
C2's Center for Immersive Learning Tech & MODSIM works across a range of disciplines to drive forward the use of immersive technologies in education, training, research, government, defense, and industry. The company's research provides new and innovative ways of using virtual reality and augmented reality, also known as extended reality or XR, and metaverse to improve learning and human performance.
Company officials estimate it will hire more than two dozen employees its first year in Orlando and should double that by the end of year two. The salaries could reach $150,000.
Specific positions available now include 3D modelers, game designers, learning experience designers, research assistants, unity programmers, and general computer programmers.
Headquartered in Vienna, Va., C2 Technologies was founded thirty years ago and focuses on using virtual reality, artificial intelligence and the metaverse to build its training applications.
While the U.S. Air Force is its largest customer, currently training aircrews on seven different platforms including C-17s, A-10s, EC-130s and more; the company also works with all branches of the military. This includes several divisions of the Department of Defense, including Veterans Affairs.
Another example of our work is a virtual reality program designed for NATO to protect civilians and children in armed conflict.
More than two dozen non-military federal agencies have worked with C2 Technologies, including Office of Personnel Management, Department of Homeland Security – FEMA, Coast Guard, Secret Service, Immigration and Border Patrol, Department of Justice, Health and Human Services and others.
We also have a significant client list of non-government customers, including several multinational corporations. For instance, C2 is launching a unique program to ease the use of mobile technologies for seniors and connecting them with friends and family – https://www.ohanaisfamily.com/
"C2 Technologies' interest in being a part of Central Florida is important to our region's growth as they are one of the leading firms that defense, government and businesses turn to for these types of programs," says Carol Ann Dykes Logue, director, Innovation Districts Programs & Operations, University of Central Florida. "It's a testament to what we have been building in Central Florida that companies are looking for ways to integrate in our community."