(Thanks to Jennifer McNeil, Samir Morankar, and Anne Tsang for their contributions to this article.)
GovLoop, the "knowledge network for government," recently published a comprehensive Guide on mobile technology in the government, entitled Making Mobile Matter: Implementing Your Mobile Enterprise Strategy. The Guide notes that while mobility is an exciting new trend in government, "organizations are at the early stages of mobile app development and adoption."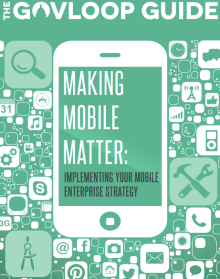 The same can be said for mobile learning. Government agencies show a great deal of interest in mobile learning, but there are few actual implementations, which means that agencies are missing out on the many ways that mobile technology can support learning. So, for those of you who are wondering how mobile learning could benefit your organization, here are six interesting ways to use mobile devices for learning.
1. Overcoming the limits of the physical world. In the world of equipment training, two frequent issues are 1) access to working equipment for training and 2) the ability to replicate all potentially significant malfunctions. These were exactly the issues the U.S. Army faced in training crews to prepare and move military vehicles into combat position and then remove the equipment. With few systems available for training purposes, only 2–4 classroom participants at a time could actually practice on the equipment. The instructor's challenge was to keep the other participants engaged while they awaited their turns on the training equipment. To address this challenge, C2 developed simulated crew drills for mobile phones that allowed participants to practice any drill at any time.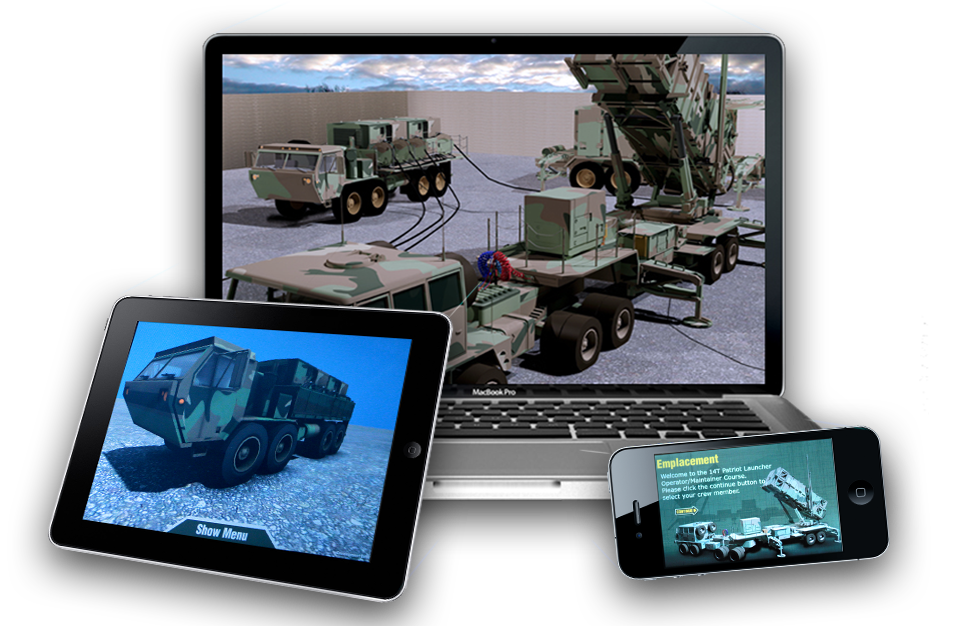 In the classroom, the simulated drills keep participants productive and learning when they don't have access to the training equipment. They can even practice tasks that could damage the training equipment. In the field, participants can use the simulated drills for quick refresher training before completing a task.
2. Adding interactivity to classroom discussions. Applications such as Poll Everywhere make it easy to turn participants' mobile phones into polling devices. If you want to add interactivity to a presentation, solicit participants' perspectives, or do some quizzing, you just ask participants to pull out their mobile devices and text a response to a 6-digit number. The responses are displayed immediately in both virtual and face-to-face classrooms so that you and your participants can view and discuss them. No need to hand out devices and track their return, install complicated software, or learn how to use it.
C2 has used this tool effectively in conference presentations.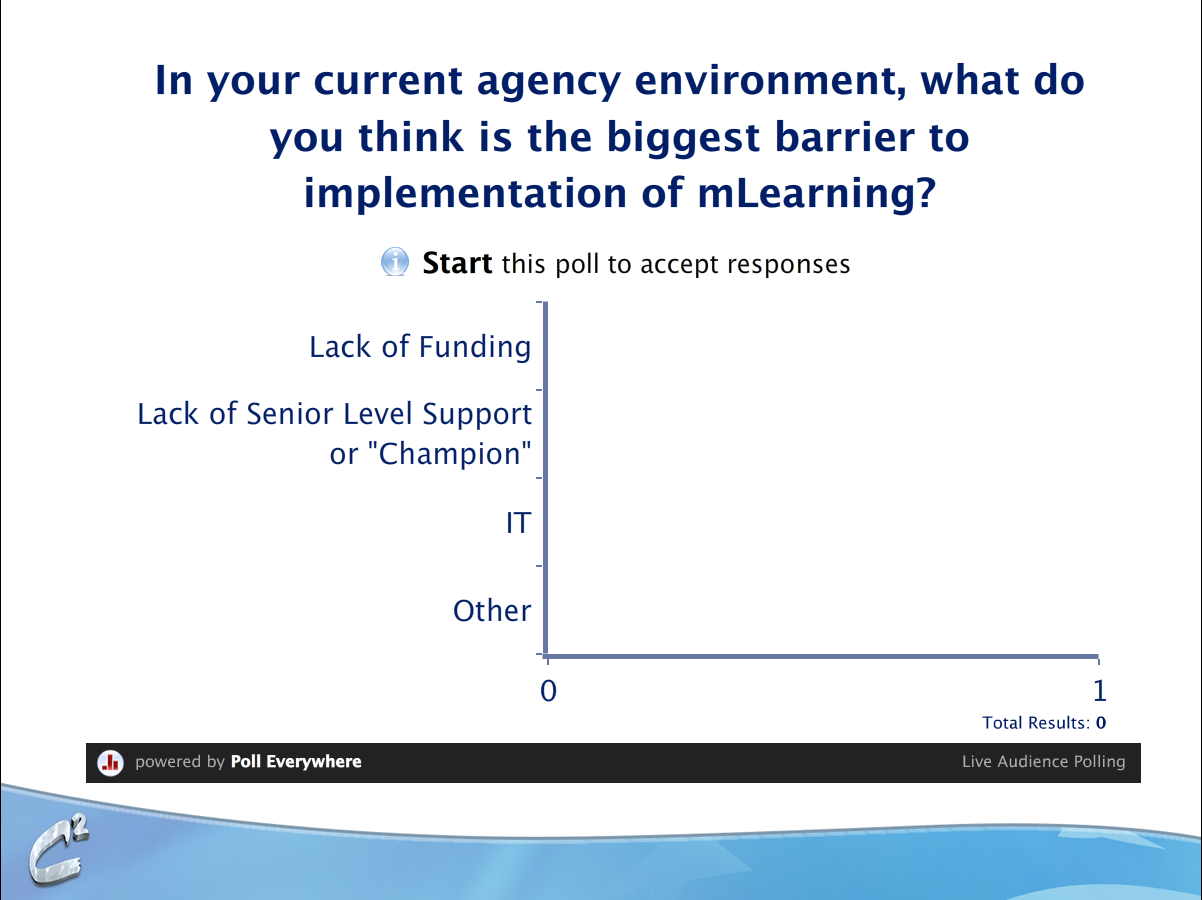 3. Create interactive course materials. Mobile technology gives us the opportunity to revolutionize the Participant Guide. No more gigantic binders filled with reams of paper! Imagine opening your textbook on your own device and being able to play videos, take quizzes, and link to additional information. This type of "eBook" is exactly what C2 has created for a military training curriculum. We converted the printed course materials to a highly interactive series of multimedia-rich interactive electronic books which will be used in classes nationwide beginning in fall 2014.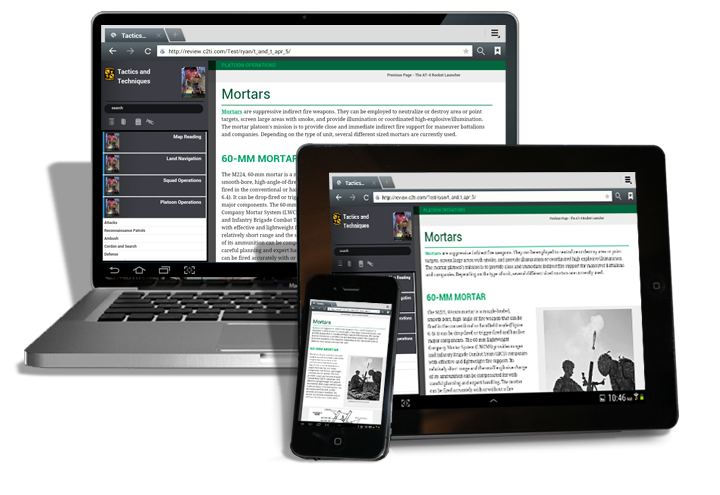 4. Providing just-in-time training: Since most people have their mobile devices with them at all times, mLearning is an obvious solution for just-in-time training. For a large hospitality chain, C2 recently developed a mobile application that allows general managers to access discussions, job aids, and podcasts to support tasks they're trying to complete, from generating a financial report to conducting a quality inspection.  It also provides alerts for hot topics of interest that managers will need to know to be successful.
We are also working with a client to develop a mobile tool that will support participants as they implement strategies to improve their emotional intelligence.  
5. Playing games: In late 2012, sales for mobile games surpassed those for game consoles. The mobile device is now the platform of choice for games, and that includes "serious games" that promote a specific learning goal.  In addition, mobile technology can be used in classroom games to provide participants with updated information or additional instructions. Imagine that your participants are working together to solve a problem when they receive a text that adds a new complexity to their situation. Different teams may even get different information, expanding the parameters and nuances of the game.
6. Providing location-specific information. Mobile devices have location-specific functionality that provides unique information based on a user's location. This functionality could be used to give new hires a tour of your facilities or provide technicians with updated safety information based on their location in a plant.
How might some of these mLearning strategies fit into your training solutions?
Stay tuned for more on mLearning
Our next post will offer a checklist for implementing a mobile learning strategy, based on a presentation that Samir Morankar and Anne Tsang conducted at the Training Officers Consortium in April 2013.