I've been a fan of TED talks for years. They are always a good source of inspiration and insight. I've used them to motivate myself—and others. I've used them in classes to make a point. I've used them to push the boundaries of what I and my colleagues know. So, when Loudoun County (VA) Public Schools hosted a local TEDx event, I couldn't wait to attend.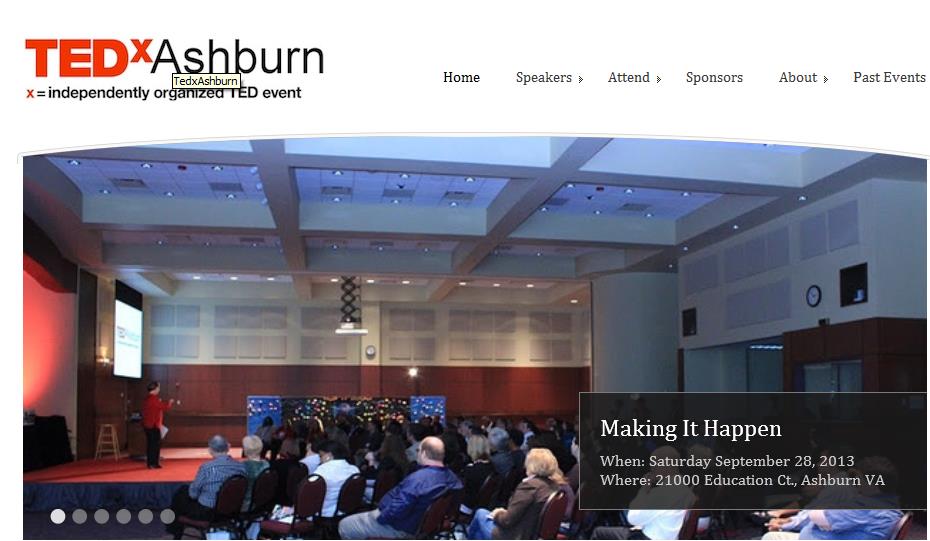 The theme was Making It Happen, and it focused on education. Over the course of the day, 12 speakers, both live and on TED.com, introduced us to their innovative work and ideas that will change our world. These talks in turn sparked interesting discussions during the breaks. Now, I'd like to share these ideas with you and continue the discussions. Below I've summarized each speaker's key ideas, and described their application for those of us in the training/learning industry. As speaker videos become available on the TEDx Ashburn website, I will update this post with direct links to each talk.
Recognizing that 12 compelling ideas all at once may be too much, I'm breaking this post into two parts. You can get started with six ideas (plus one) this week, and look forward to six more (plus one) next week.
Science and art can create compelling education. Gia Mora is an actress/singer who happens to love physics. When she was a kid, she studied for tests by writing stories about the subject. For example, when studying meteors, she wrote a story about a girl who was struck in the head by a meteor, and suddenly exhibited all its properties. Today, she stars in her own solo show, called Einstein's Girl, in which she uses physics to explain love.
Application: As instructional designers, we can create some compelling learning experiences and help people shift their perspectives by connecting topics that may at first glance seem unrelated. We also need to learn to integrate music and art into the learning we create. Gia started her "talk" with a song.
Community + Collaboration + Content = Powerful Learning Experiences. Tim DiScipio is the founder and former CEO/CMO of ePals, a social networking site for K–12 classrooms. He spoke about new models for education and how to give kids the technological skills needed in the workplace of the future. He also played an inspiring video of Steve Jobs talking about the importance of asking for what you want.
Application: Tim's Powerful Learning Experiences equation is a good reminder to think beyond content and find new ways to integrate community and collaboration into learning. The Steve Jobs video will inspire you to stop making excuses and start asking for what you want.
Design first for those with disabilities and the result will be a great learning experience for everyone. Chris Bugaj is an Assistive Technology Trainer in Northern Virginia. He pointed out that many of the technologies that we enjoy today, such as touch screens and auto fill, were first developed to help people with disabilities. He showed us how closed captioning, a tool for those with hearing impairments, can be a useful aid for beginning readers. He pointed out that those with cognitive disabilities like dyslexia benefit from viewing content in short, digestible chunks—an approach that benefits everyone.
Application: The typical instructional design approach is to create an effective learning solution and then determine how to make it 508-compliant. Would our designs improve if we focused on creating a compelling 508-compliant experience first?
We can do some amazing things with mobile technologies. In a video from Edinburgh, Scotland, Matt Mills of Aurasma demonstrated his mobile augmented reality application. When he held his phone up to a print of 18th-century Scottish poet Robert Burns, the poet began reading his work to us. When Matt held his phone up to a router box, we saw a video showing how to install the router.
Application: Mobile technologies can open up a whole new world of learning. We need to think more creatively so we take full advantage of this medium and not just replicate old models.
Entrepreneurism can be taught. Ara Bagdasarian co-wrote the book The Lemonade Stand: What Every Entrepreneur Should Know To Succeed in Starting and Running Any Business. He also invented Omnilert, the campus emergency notification system. Ara advocates including entrepreneurism as the foundation of the school curriculum, encouraging students to find opportunity in everything they're learning. He has started lemonheadsrule.org as a means of educating and supporting young entrepreneurs. It offers a free curriculum for teachers to expose students to the entrepreneurial mindset. He talked about how to create an entrepreneurial workforce with the outlook to recognize opportunities and then go after them.
Application: We tend to think of entrepreneurism as a personal characteristic—some people are entrepreneurial and some are not. Ara's resources offer an opportunity to learn how to harness the entrepreneurial mindset and become better able to recognize opportunities and make them happen.
 Accidents can lead to amazing discoveries. In this video, Miranda Wang and Jeanny Yao talk about how a series of accidents, as well as their own perseverance, led to their discovery of a bacterium that can break down plastic waste in landfills.
Application: In the business world, accidents are viewed as bad news, something to avoid. Although companies want innovation, they're often not willing to tolerate the accidents and failures along that path. If we want to progress, we need to embrace the accidents and use them to learn and make new discoveries.
This week's bonus idea:
In addition to what I learned directly from the speakers, the event itself conveyed some overarching lessons. I noticed that all of the speakers shared a willingness to work hard and overcome great obstacles to achieve their dreams. When you see someone up on the stage, telling a compelling success story in 18 minutes or less, their path may seem easy. It's important to remember that success is never easy. And the people who achieve their dreams are the ones who are willing to:
Try and try again until they've reached their goal
Step out into uncertainty and try something new
Be uncomfortable—lose some sleep, give up the steady paycheck
Tune out the naysayers and actually prove them wrong
Work through every single detail until they get it right
So, what inspiration did these ideas spark in you? How might you approach your work differently to innovate and create new opportunities?