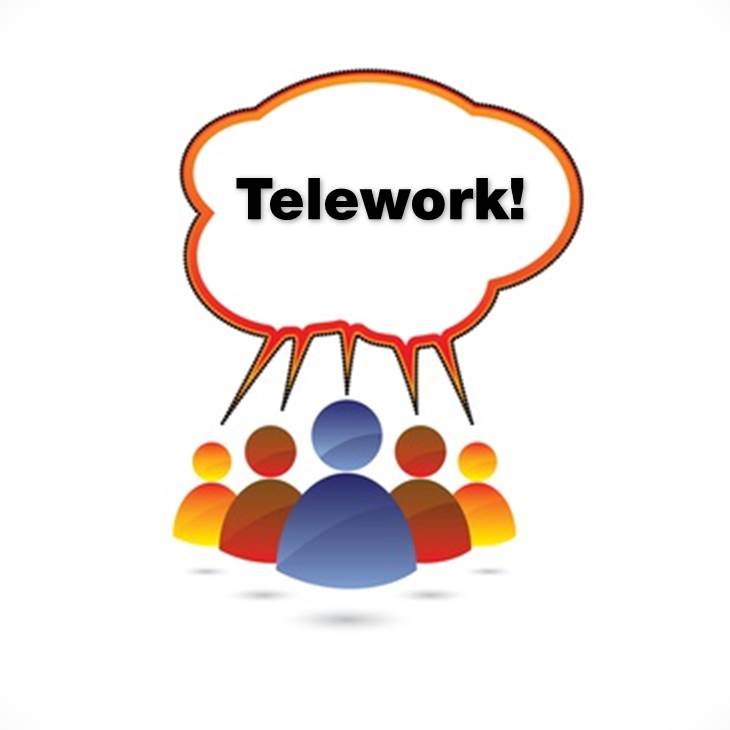 Over coffee one winter morning, the conversation turned to the subject of teleworking. Six women from various Government agencies and contractors compared their teleworking experiences. Their perspectives encapsulate the current state of teleworking, something particularly relevant during this Telework Week.
Participating in the discussion were:
M from the Department of Defense. M had been forced into teleworking after the Navy Yard shooting. She found she liked it more than she thought she would. She got more sleep and got more work done. Technology was a challenge. It could take minutes for emails to open or send. System updates could be done only on the network, so she fell behind until she could take her laptop into an office and hand it over to IT for a few hours. She found that some people abused the privilege and basically disappeared, not responding to phone calls or emails. Her group made it a point to stay in touch by meeting in person every week.
V from the Department of Labor. V oversees a group that is telework-ready, but finds that no one is really interested in teleworking. She says that their office culture is based on face-to-face interaction and long hours in the office. She teleworks occasionally—for example, when waiting for a repairman. When she teleworks, V feels that she must work harder to prove that she is being productive.
S with the U.S. Geographical Survey. S has a telework agreement and has teleworked consistently one day a week for several years. For a while, she stopped teleworking because she felt that she was missing out on activities in the office. But she has recently started teleworking again. Her team uses Instant Messaging to stay in touch when teleworking. S finds that seeing her coworkers' names on IM and knowing they're just a click away helps her to feel less isolated at home. S works with large files, so sometimes the technology can keep her from being as productive as she'd like to be. Like V, she tends to work harder and longer when teleworking to "give her boss more."
C is a contractor who has teleworked consistently at least one day a week for almost 20 years. When her children were younger, telework gave her the flexibility to get her work done while taking care of her family. Now that her children are grown up and there are fewer restrictions on her schedule, she tends to go into the office more. She still finds, though, that telework gives her uninterrupted time to get her work done.
T from the Department of Defense. Ten years ago, T wrote her master's thesis on telework, and she has long been a strong supporter of it. While she does not often telework herself, 75% of her office is telework-ready, and she oversees several staff members who telework consistently one day a week. She finds it no harder to manage teleworkers than other workers. She finds that they are often more responsive than those in the office. Also, since some of her staff are field workers, she is used to managing people whom she doesn't see often. Her philosophy is, "If you can't trust them to get the work done outside of the office, how do you know they're doing something when they're in the office?"
Then there's me, a contractor. I've teleworked for much of my career, often working from home almost 100% of the time. Like C, I found telework gave me the flexibility to support my daughter's schedule when she was younger. I still prefer telework when I need to concentrate on a difficult task. The quiet of my house gives me the focus I need to get that work done. I also like to telework when I have a tough deadline to meet. Eliminating the commute adds a couple more hours to my day. In the past five years, I've enjoyed a hybrid arrangement, teleworking three days a week and coming into the office two days a week. That arrangement gives me the best of both worlds—the relaxed focus of the telework environment and the camaraderie of the office.
Some Key Themes
In our discussion of telework, some key themes emerged:
Telework is great for employees, giving them back the time they usually spend commuting and providing a distraction-free work environment. But telework can be harder for managers, who have to be more proactive in how they make assignments and ensure accountability.
It's less clear how useful telework is for the organization. With just one- or two-day telework arrangements, agencies cannot reduce space and save energy. Also, they can lose the informal communication that occurs in the hallways and at the water cooler. On the other hand, telework helps address the problem of limited parking. And it may help eliminate unnecessary meetings— dispersed personnel are less likely to call a meeting "since we're all here anyway."
Teleworkers tend to work harder in their home offices because they feel that they have to prove that they're being productive.
To be successful at telework, you need to have a tangible work product to produce and a firm deadline. Also, you need to be responsive to telephone calls and emails, getting back to people as quickly as possible.
Some positions are not appropriate for telework. For example, staff workers who must respond immediately to on-site requests should stay in the office.
While there is plenty of technology to support telework, from telephone and email to Instant Message, GoToMeeting, and Skype, technology can also be an obstacle to effective teleworking. Sometimes connecting to office networks and staying connected can be difficult and frustrating. File transfer times can be slow, and it can be hard to access shared drives. Stringent security requirements also interfere with a seamless telework experience.
In some cases, policy may discourage teleworking. For example, those who are telework-ready may be required to work on snow days while others enjoy a free day off.
Working in the office is what most people are used to, so it can be hard to break out of that comfort zone. Some people like dressing up for work; it makes them feel more serious and professional. And some people like the physical separation of work and home—a clear line between work and non-work. They call it the "Friday feeling"—that euphoria of knowing that your work is done and you can go home and relax.
In general, people don't like the idea of hoteling. They want to have their own space in the office—a place to hang pictures and personalize, to make their own. They don't want to have to share with someone else.
In our "either/or" culture, we may have artificially drawn a line between teleworking and not teleworking. While telework offers clear advantages, there are also advantages in bringing people together and getting things done through informal office relationships. It's doubtful that the work environment will ever go to 100% teleworking. A hybrid arrangement allows us to realize the best of both worlds.
What work arrangement do you prefer? How does your organization's culture support your preferences?