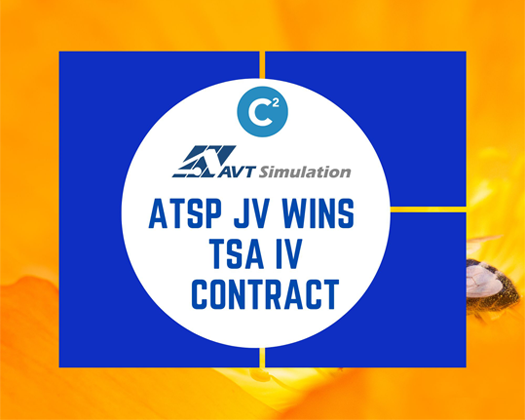 McLean, VA – June 12, 2023
ATSP Joint Venture, a collaborative endeavor between leading defense and technology companies C² Technologies and AVT Simulation is thrilled to announce the award of the Training Systems Acquisition (TSA) IV Contract.
The TSA IV contract is a $32.5 billion, multi-award, indefinite-delivery/indefinite-quantity (ID/IQ) contract aimed at providing the Department of the Air Force with world-class training systems and contractor logistics support. As one of the 19 small business contract recipients, ATSP JV will provide training, engineering, software development, analysis, design, development, production, installation, integration, testing, sustainment, and instruction for Air Force training systems and cross platform capabilities.
"We are incredibly proud to be awarded this contract," said Dolly Oberoi, CEO of JV member C² Technologies. "Our team is deeply committed to enhancing the quality of military training. The TSA IV contract allows us to create and implement advanced training systems to ensure the readiness of our defense forces."
Under the TSA IV contract, ATSP JV will employ cutting-edge technologies such as Virtual Reality, Artificial Intelligence and Machine Learning to deliver comprehensive, adaptive, and immersive training systems. These solutions will ensure military personnel are equipped with the most relevant and effective training to navigate evolving operational challenges.
"Our team has worked diligently to build solutions that not only meet but exceed the requirements for this contract," continued Oberoi. "We look forward to the opportunity to work closely with the Air Force and to support our nation's security by offering state-of-the-art training solutions."
Products and services slated for acquisition under TSA IV include training devices, updates and modifications to training systems, the management of Training System Support Centers, contractor logistics support, instructional services, and cybersecurity, as well as the development of engineering design ideas and prototypes.
About C² Technologies Inc.
C² Technologies, Inc. (C²) is a full-service global training solutions provider that is reimagining the future of immersive learning by enhancing human performance through education, Aviation Training, Training Systems Integration, and Modeling, Simulation & Training (MS&T), using immersive technologies (AR/VR/XR, Metaverse, Digital Twins, Gamification), powered by Artificial Intelligence (AI). With its Center for Immersive Learning Tech & MODSIM in Orlando, FL, headquarters in McLean, VA, 37 office locations nationwide, 30+ years of experience, and 500+ multi-disciplinary professionals, C² is a powerhouse that is serving public and private sector clients, including all branches of the Department of Defense, Government, and private industry. Current training support projects include A-10, B-1, B-52, C-17, E-8, EC-130 and F-16 training programs. To learn more about our capabilities, please visit www.c2ti.com.
About ATSP JV
ATSP offers world-class training and aviation support services. Our team of highly skilled and motivated employees provides a variety of support services, including aviation training and training support services, courseware and training product development, training device support, electronic hardware sustainment, professional engineering services, cybersecurity support and program management. You can count on ATSP for delivery of quality services and products with an unwavering focus on customer support. Please visit http://atspjv.com/# to learn more.