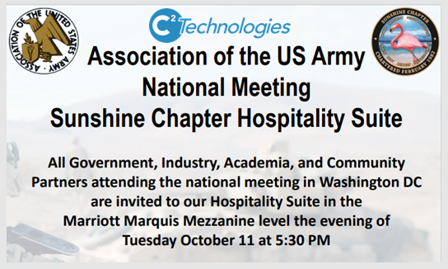 Come meet our leadership team – Curtis Cox, Dara Nicholls & Deanna Winstead
Our Hospitality Suite is in the Marriott Marquis Mezzanine level.
AUSA is a private, non-profit educational organization that supports America's Army – Active, National Guard, Reserve, Civilians, Retirees and family members. The AUSA Annual Meeting and Expo brings together over 30,000 attendees from 80 countries to gain knowledge and insight into the latest advances and challenges faced by the United States Army. C2 is proud to be supporting this event as a Silver Sponsor!
For more details visit: https://meetings.ausa.org/annual/2022/